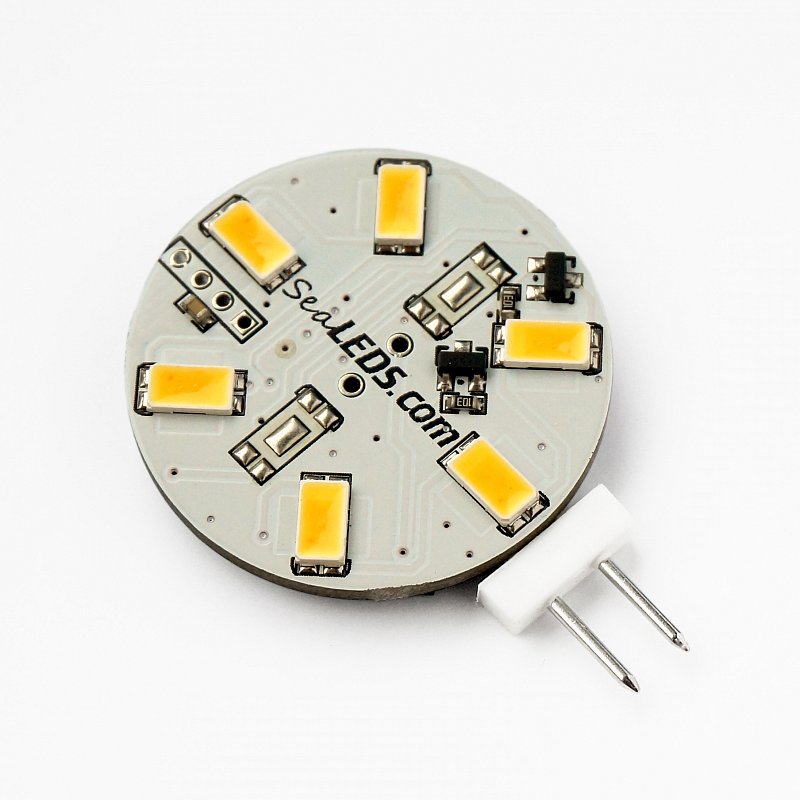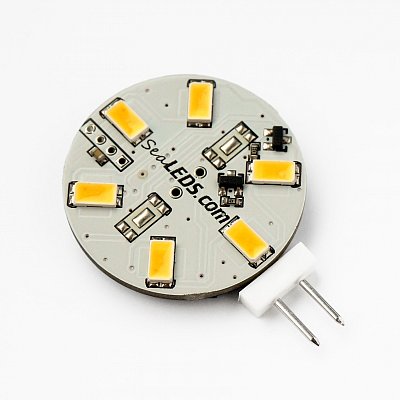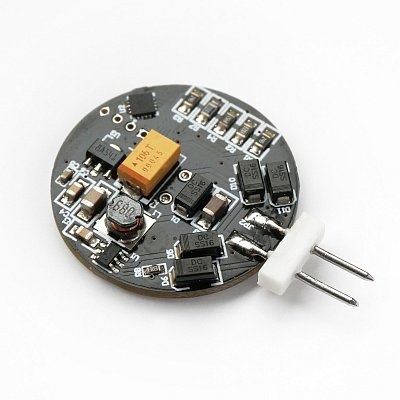 Sealeds Night Watch 0Red/White
Black&white - two modes LED to be used ONLY in conjunction with Dual Color Red&White LEDs. These modules will not light at the first switch when the Dual Color LEDs turn red but will switch to superb warm white mode together with the Dual Color LEDs . It is a replacement for halogen G4 bulb, all in one fixture, no adaptation required. High quality white light with CRI >93 and AC/DC 10-30V multi voltage. Long life. Low power consumption up to 88% less than halogen.
WE ACCEPT Payment by PAYPAL - easy way to do it!









Product specification
Additional information
Number of LED:
6
LED type:
5630 middle power
Brightness (lm):
216
Colour Temp:
2700 Kelvin (super warm white)
Colour fidelity:
CRI >93, R9>50
Operating Voltage:
DC 10-30V; AC 10-24V
Power Consumption:
max. 2,20 W
Current:
0,17 A @ 12V / 0,08 A @ 24V
Base type:
G4 side or back pin
Effect on radio frequency:
no interferences
Beam angle:
120'
Allowable operating Temp:
-10°C ... 50°C
Led life:
50000 hours
Dimensions:
D30mm, H5,6 mm, pins length 30mm, on request available longer pin versions
Warranty:
2 years
The driver has built-in:
protection features such as pulse by pulse current limit
thermal sensing and
shutdown due to excessive power dissipation.
This is a sister module to the Dual Color Night Watch LED. It is a similar module as Red/White equipped with uC and software but without RED LEDs. If there is no need to have the whole section of lights to give red light, we use these modules to stay unlit at the first switch.
You mount one or two modules of Red/White Sealeds Dual and the rest 0Red/White Sealeds.
Procedure and algorithm remain the same. The result is different.
Once you switched ON whole sector only Dual will light their Red sections, after 3-4 seconds gentle blink of RED leds appears giving you a chance to switch OFF and ON again during 3-4 second (after blink) will result full light of all luminaries in section.
When SEALEDS Dual operate in night mode - Red, in the same time SEALEDs 0Red/White are in standby mode ( no light) use only 4,5mA which means the power consumption is below 55mW. Our marine led G4 bulbs do not interfere with RF equipment on board.
Dual color G4 LED bulbs - seaLEDs, are designed and manufactured in EU, (well) made in Poland.
WE ACCEPT Payment by PAYPAL - easy way to do it!