Shop categories:
Testimonials:
I did get the LED's - the LED colour is excellent, we are really pleased with them.
We have tried other LEDs in the past and the sealeds are incomparable, light is superwarm but real, saloon looks like at home
We have Mariusz's LED lights installed on Britican and we are LOVING them. The light is fantastic...and the reduction in energy usage is massive.
I thought the light might be too bright or white but it seems to be better than the light we had before. I'm sure this is all a matter of opinion, but my husband and I very happy ;)
>
<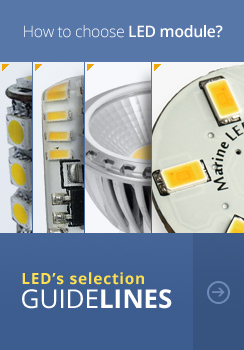 Welcome to SeaLEDs Shop
The idea to make LED modules for marine conditions came, when we could not find right LED for our Oyster 46 yacht. As we are involved in professional electronics including LED lighting for industry through the "mother" company Soyter, we could leverage the knowledge and access to the best LED selection. Our ambition is to offer best quality, super-warm light, creating nice and cozy atmosphere even for most demanding boat owners. It is suitable for luxury yachts, as well as small floating homes.
SeaLEDs bulbs and fixtures will save energy, have long term life and durability. Being aware about extremely tough conditions for any electronics on board of the vessel at sea, we use proven, reliable components of well known brands in US and EU.
The store offers replacement LEDs bulbs and fixtures to renew outdated interior lighting system or outfitting your vessel with new marine LED fixtures. How to choose LED module - LED's selection guidelines