Our choice of dinghy and outboard AB Rider and Mercury
Our Dinghy:
It combines safety, comfortable tender with power and speed similar to jetski in one. Construction and design are robust as the reinforced fiberglass (GRP) is molded with air tubes Orca(CSM) material (Hypalon®) one of the strongest material used to build big RIB's. As we equipped our tender in 30HP Mercury outboard, it had reached a maximum speed of 30 kts! It is just great!
ABRider is equipped with a two-stroke 30HP outboard engine made in Japan as it was the lightest available on the market (52Kg) and as all two strokers easy to maintain, adjust and repair by anyone. This is the biggest advantage of this set, as two-stroke engines are extremely reliable, simply build with the parts available around the World. Most of the engines still used for over 15 years at fisherman's boats, coast guards, police and military forces as they reliable and last forever…
In the past, two-stroke outboards suffered a reputation as fuel-drinkers, dirty-exhaust motors- it is not the truth anymore. Manufactures improved them a lot. However many bigger size, conventional two-strokes have been suspended in production and replaced by state-of-the-art, direct-injected two-strokes and fuel-injected two-strokes, available in great array of horsepower ratings. Currently, produce engines present great performance for the way they preserve fuel and accelerate a boat like crazy.
DI (direct-injected) two-stroke outboard at lower rpm is stronger in performance because they use a power stroke with every turn of the crank.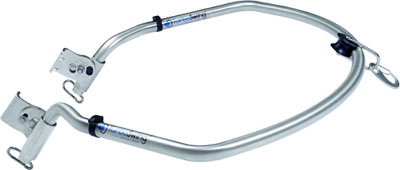 With this tender setup, you can enjoy also water skiing. You can install the Turbo swing to make it easy and safe.
Stunning conditions as it is brand new approx 12-15 hour work only,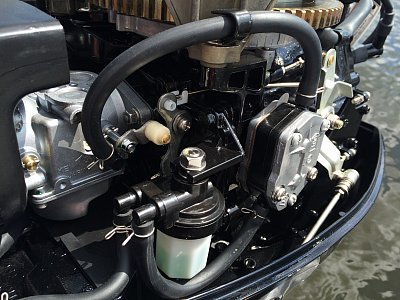 after 10 hours of Mercury engine break-in procedure completed.
As the engine has its own alternator we add a marine grade battery 42Ah 900A Exide Start AGM EM900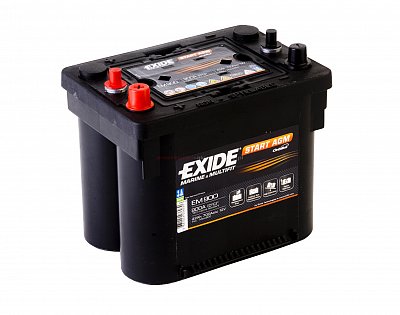 which allows trouble-free startup by turning the key, gives you the freedom to add any equipment on board. Power white light (not obligatory but increasing safety during night usage) has been installed. Additionally RPM meter was mounted.
The gasoline 25l tank is hidden in the spacious bow compartment. Total weight is 192kg + tank.
The new AB Rider delivers the ultimate water experience. Its unsurpassed design and outstanding performance will give you many hours of safe and exhilarating fun. It is relatively lightweight, fuel-efficient and exciting 10' inflatable has ample seating for two adults and plenty of storage to keep your cargo protected and dry at all times. It will be still a tender to your mother ship and can be lifted by its four davit lifting points for storage. The AB Rider was made with the same safety features found on other inflatable boats such as three air chambers and tough Orca(CSM) material. The AB Rider was designed for those looki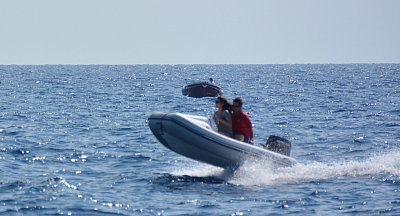 ng for a new type of thrilling and versatile watercraft. - this is what manufacturer marketing division says but I can 100% confirm.
AB Rider pictures with a lot of details you can find here
As we equipped our tender in 30HP Mercury outboard we had reached a maximum speed of 30 kts! It is just great!
This speed is possible in very comfortable conditions: no waves or just small, 2 persons, no other heavy equipment or luggage, as even small waves will be made us flying above the water.
Before you buy this excellent toy make sure to check carefully parameters of your Davits.
AB Raider has different shapes then most of the standard dinghies, the distance between the outboard engine and steering wheel column must be check.
Once you lift it up dinghy should go tightly to arms of davits against air tubes. To achieve this you might need to do some adaptation of davit lifting points or davits mounting points. For those who tow their tender behind there is no problem.
Actually, the only reason that I am selling this wonderful set of equipment is our mistake in the installation of davits. They were prepared for a simple dinghy as the manufacture of our boat prepare reinforcement of the deck ( and under the deck) for future davits retrofit for standard rib. So we decide to farewell with such performance as there are no options on the market which could be so light and robust has a console and allow such powerful engine..
AB Inflatables page http://www.abinflatables.com/ab-rider
AB Rider pictures with a lot of details you can find here
Overall Length: 10' 6" / 3,20m
Overall Beam: 5' 9" / 1,76m
Inside Length: 7' 9" / 2.37mm
Inside Beam: 2' 10" / 0,86m
Tube Diameter: 17" / 0,43m
Number of Chambers: 3
Person Capacity: 4
Weight: 273lb / 124kg
Recommended HP: 25hp / 18,7kw
Maximum HP: 30hp / 22,4kw
Shaft Length: 20' / 50,8cm
RDC Design Category: C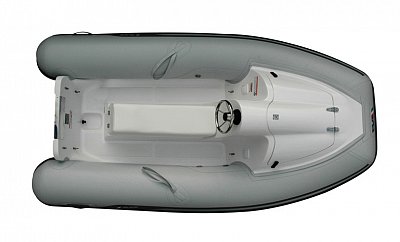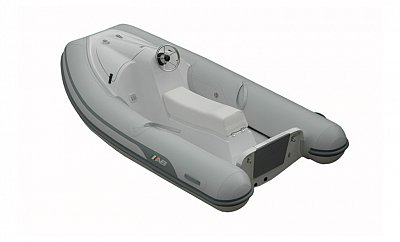 Standard Equipment
Integrated Two Person Jockey Style Console
Heavy Duty Hand Laid Fiberglass Deep "V" Hull
Heavy Duty Stringer System Laminated into Hull
Diamond Shape Non-Skid Deck
Plastic External Transom Plate
Aluminum Internal Transom Plate
Hand Pump
Maintenance Kit
Owner's Manual
Large Bow Fuel, Anchor & Storage Locker
Orca (CSM) Five Layer Coated Fabric
3 Push Plastic Non-Corrosive 2 Stage Inflation Valves
Raised Single Rub Rail
Stainless Steel Bow Eye
4 Stainless Steel Davit Lifting Points
Stainless Steel Tow Rings & Tie Downs
Inner Hull Drain with Plug
Deck Drain with Plug
1 Front & 2 Side Orca (CSM) Fabric Handles on Tubes
2 Inside Heavy Duty Orca (CSM) Fabric Handles on Tubes
3 Layers Reinforced Seams
Mechanical Steering System
Stainless Steel Steering Wheel
Closed Cell Foam Upholstery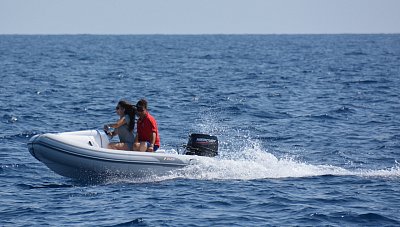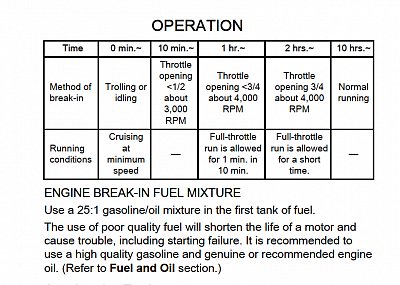 Compare Outboards
Twostroke 30HP

Twostroke 15HP

FOURSTROKE25 hp EFI

FOURSTROKE20 hp

HP / kW

30 / 22.5

15 / 11.4

25 / 18.6

20 / 14.7

Engine type

Inline 3

Inline 2

Displacement (CID/CC)

26.3 / 430

17.9 / 294

32.1 / 526

21.4 / 351

Cylinder Configuration

Full throttle RPM

4750 - 5500

5200 - 5800

Air induction

Fuel induction system

Loop charged (1 carb)

Loop charged (1 carb)

2 valves per cylinder, single overhead cam (SOHC)

2 valves per cylinder, single overhead cam (SOHC)

Alternator amp / Watt

No alternator

15 amp / 186 watt

12 amp / 138 watt




Recommended fuel

87% octane / up to 10% ethanol

87% octane / up to 10% ethanol

Recommended oil

Mercury FourStroke Oil 10W-30

Mercury FourStroke Oil 10W-30

Engine protection operator warning system

Low oil pressure Sensor failure

Low oil pressure

Starting

Electric (turn-key)

Controls

Steering

Tiller

Shaft length

15"/381mm 20"/508 mm

15"/381 mm 20"/508 mm

15"/381 mm

20"/508 mm

15"/381 mm

20"/508 mm

Gearcase ratio

1.92 : 1

1.84 : 1

Dry weight *Lightest model available

157 lbs /

115 lbs/52 kg

CARB star rating

Emissions Star Rating

Bore and stroke

68 x 59

60 x 52

2.40 x 2.36" / 61 x 60 mm

2.40 x 2.36" / 61 x 60 mm

Ignition

CDI w/electronic spark advance

CDI w/electronic spark advance

Fuel system

Electronic Fuel Injection (EFI)

Cooling system

Water-cooled with thermostat

Water-cooled with thermostat

Gear shift

Gearcase options

Trim system

Power Trim

Power Tilt

Trim positions

Exhaust system

Through prop

Through prop

Shallow water drive

Shallow water trim range (degrees)

Integrated fuel tank (gal / L)

Remote fuel tank (optional)

Optional fuel tank (gal / L)

Remote fuel tank standard (gal / L)

6.6 / 25

6.6 / 25

Counter rotation

Color

Phantom Black

Phantom Black

Flush system

Pump type

Impeller diameter

Impeller type

Oil Capacity

Oil Injection
GENERAL INFORMATION 2 strokes
25/30 Specifications
Model

25M

30M

30EH

30E

Overall length

884 mm (34.8 in.)

600 mm (23.6 in.)

Overrall width

412 mm (16.2 in.)

355 mm (14 in.)

Overrall height

S: 1116 mm (44 in.) ‐ L: 1243 mm (49 in.)

Transom height

S: 435 mm (17.1 in.) ‐ L: 562 mm (22.1 in.)

Weights

51 kg (112 lb)

55 kg (124 lb)

54 kg (119 lb)

Max output PS/(KW)

25 (18.4)

30 (22.1)

Full‐throttle RPM

5,000 ‐ 6,000

5,150 ‐ 5,850

Fuel consumption

13 ltr/hr

Number of cylinders

2

Piston displacement

430 cc (26.2 cu in.)

Cylinder bore

68 mm (2.68 in.)

Piston stroke

59 mm (2.32 in.)

Exhaust system

Through hub exhaust

Cooling system

Water cooled

Starting system

Manual

Electric/Manual

Battery rating

Minimum reserve capacity rating of 100 minutes and CCA of 350 amps

Ignition

CD Ignition

Spark plug

NGK B7HS ‐ 10 or Champion L82C ‐ NGK BPR7HS ‐ 10

Spark plug gap

1.0 mm (0.035 in.)

Alternator

12 V, 18 W

Fuel mixing ratio

50:1 ‐ Regular Gasoline 50 : Oil 1 (Quicksilver TC ‐ WII or TC ‐ WIIl 2 Cycle)

Fuel tank capacities

25 L (6.6 gal.)

Gear reduction ratio

1.92 : 1

Gear oil

Quicksilver Gear Lube Premium Blend

Gear oil volume

280 ml (9.5 fl.oz.)
HP / kW

20 / 14.7

Engine type

Inline 2

Displacement (CID/CC)

21.4 / 351

Full throttle RPM

Fuel induction system

2 valves per cylinder, single overhead cam (SOHC)

Alternator amp / Watt

12 amp / 138 watt

Recommended fuel

87% octane / up to 10% ethanol

Recommended oil

Mercury FourStroke Oil 10W-30

Engine protection operator warning system

Low oil pressure

Starting

Steering

Shaft length

15" / 381 mm

20" / 508 mm

Gearcase ratio

Dry weight *Lightest model available

115 lbs / 52 kg

CARB star rating

Emissions Star Rating

Bore and stroke

2.40 x 2.36" / 61 x 60 mm

Ignition

CDI w/electronic spark advance

Fuel system

Cooling system

Water-cooled with thermostat

Gear shift

Gearcase options

Trim system

Power Tilt

Trim positions

Exhaust system

Through prop

Shallow water drive

Shallow water trim range (degrees)

Remote fuel tank standard (gal / L)

6.6 / 25

Color

Phantom Black
30 / 22.5

Displacement (CID/CC)

26.3 / 430

Cylinder Configuration

Full throttle RPM

4750 - 5500

Fuel induction system

Loop-charged (1 carb)

Starting

Steering

Shaft length

15" / 381 mm

20" / 508 mm

Gearcase ratio

1.92 : 1

Dry weight *Lightest model available

Emissions Star Rating

Bore and stroke

68 x 59

Trim positions

Oil Injection